Dishwashing agents
Dermatologically tested, hypoallergenic, Nordic Swan eco-labelled dishwashing detergents, specially formulated for people with sensitive skin.
---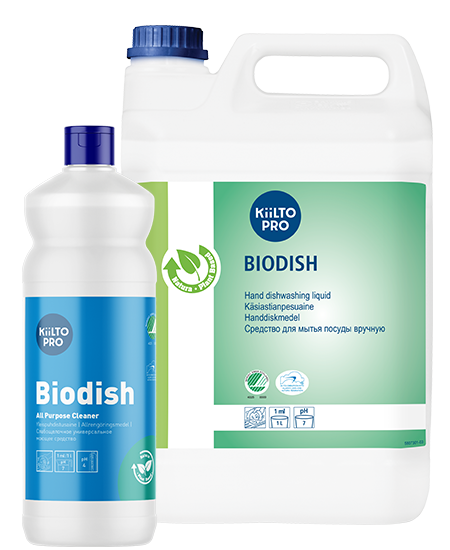 Kiilto Biodish
A gentle detergent for hand-washing dishes. Produces moderate foam and makes it easy to rinse dishes. Efficiently removes grease deposits. The product is very safe to use, because it has no hazard classifications for eye or skin irritation, for instance. The product has been dermatologically tested. CLP-, colour- and scent free. Nordic Swan ecolabel.
Kiilto Biodish is part of KiiltoClean's Natura product family. They are made of plant-based raw materials that are renewable, biodegradable and responsibly produced. Kiilto Natura is a step towards future detergents!
The product is available in the following sizes:
1000 ml concentrate bottle (art. no. 63102). Carton: 6 x 1000 ml
5 l concentrate can (art. no. 63103). Carton: 3 x 5 l