Skin protection creams
With frequent hand wash, rinsing and disinfection comes the need for protecting and replenishing skin care. By using skin protecting lotion before and after your work, you can prevent dry skin and reduce the risk of damaging substances penetrating the skin.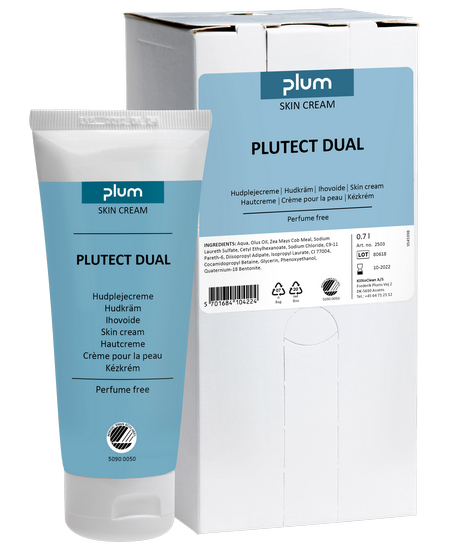 Plutect Dual 
Skin care cream for use before and during work with alternating work processes involving water-based, oily and other substances. May also be applied as replenishing after-work skin cream. Quickly absorbing, eases skin cleaning. Vaseline and zinc oxide provides skin protection and reduces skin irritation. The only cream that provides at least 95% protection to the skin even after more than 5 hours. Perfume-, colour- and paraben-free. Nordic Swan eco-labeled. Resistant to 20 out of 20 substances in Suskind test/winner of BUS test 2007.
The product is available in the following sizes:
100 ml tube (Art. no: 2541). Packaging: 18 x 100 ml
700 ml bag-in-box (Art. no 2503). Packaging: 8 x 700 ml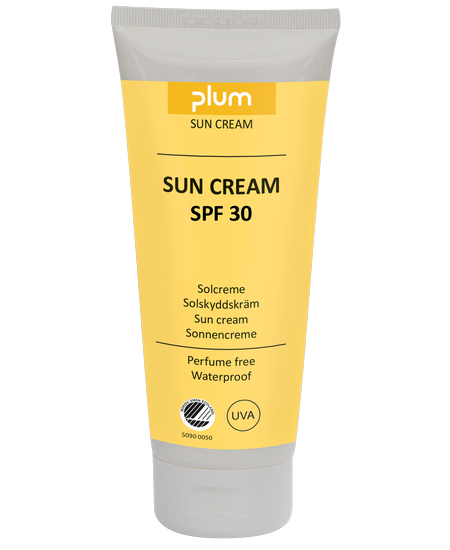 Plum Sun Cream SPF 30
Non-perfumed sun lotion that protects against the UVA and UVB rays of the sun. Waterproof. The sun lotion is easy to apply and quickly absorbs in the skin, and provides skin care too. Well suited for work areas in the outdoors and childcare centres, etc. Perfume-, colour- and paraben-free. Nordic Swan eco-labeled.
The product is available in the following sizes:
SPF 30, 200 ml tube (Art. no: 3022). Packaging: 12 x 200 ml