Keyboard disinfector wipes
Keyboard Wipes, a new product from Antibac, helps to optimise hygiene in the workplace. Suitable for cleaning shared work equipment such as keyboards, mice, corded phones and calculators, Keyboard Wipes ensure clean and hygienic workstations.
---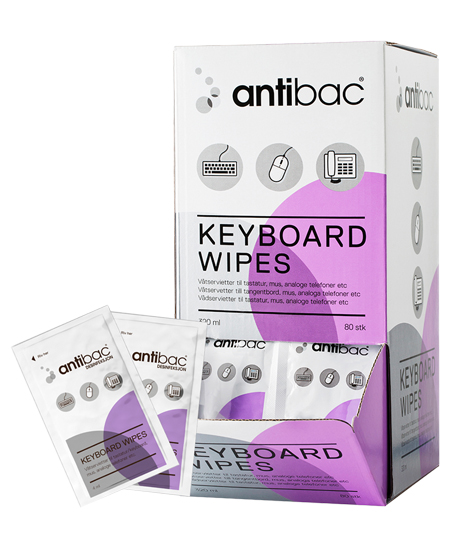 Antibac Keybard Wipes
Cleaning wipes for disinfecting (bactericidal, yeasticidal) computers, keyboards, mice, calculators and landline telephones. The cloth is impregnated with 75% ethanol-based alcohol with an antiseptic effect. The amount of liquid in the wipes (4 ml) was determined to be suitable for cleaning electronic devices (e.g., keyboard, mouse, landline phone). Elastic wipes can be used reliably on uneven surfaces. The individually wrapped shawls can fit in a small space. One box contains 80 individually wrapped 14 x 20 cm wipes.
Benefits of Antibac Keyboard Wipes
The wipes are ethanol based, infused with 75% alcohol: antiseptic (Bactericide, Yeasticide)
The wipes measure 14 x 20 cm and contain 4 ml of liquid
They can be used to clean uneven surfaces with ease
Suitable for cleaning electronic equipment (e.g. keyboard, mouse, landline phone).
Thanks to their small size, the wipes can be stored anywhere. For optimal cleaning, use them with Touchscreen Wipes!
The product is available in the following sizes:
80 pieces per box (art. no. 603025). Carton: 6 x 80 pcs
Use biocides safely. Always read the label and product information before use.