Odor neutralizers
Powerful bacterial microbes to eliminate unpleasant odours caused by organic contaminants. The microbes digest the molecules of the contaminant, not only masking the source of the odour, but removing it permanently.
---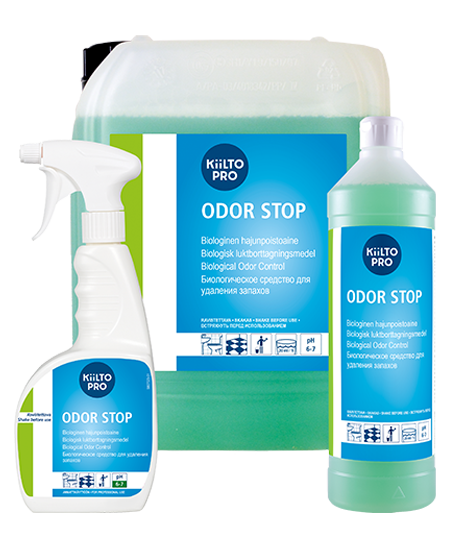 Kiilto Odor Stop
Kiilto Odor Stop is a biological odor control product. The product is based on powerful bacterial spores, which not only masks but also eliminate the source of unpleasant odors. Microbes that are inactive in the product become activated during use and begin to degrade organic matter. Due to the nature of the spores odor removing effect begins 12 hours after use. With regular use, they prevent the return of unpleasant odors. It is completely biological, so it is safe to use for both humans and the environment. Pleasant, slightly scented. It can be used on all surfaces, even textiles and clothing.
The Kiilto Odor Stop odor neutralizer is an effective solution for particularly exposed areas such as:
healthcare facilities
nursing homes
veterinary practices
public transport and transportation areas
schools
public areas
hotels
waiting areas
parking lots
gyms
sporting goods
animal odors
landfills
pathology
funeral companies, etc.
Kiilto Odor Stop is part of the Kiilto Natura series products. These products are made from plant-based, renewable and biodegradable raw materials. The raw materials used in the products are responsibly produced. Kiilto Natura is a step towards the future cleaning agents!
The product is available in the following sizes:
750 ml ready-to-use spray (art. no. 41046). Carton: 9 x 750 ml
1,0 l concentrate bottle (Art. No. 41047). Carton: 12 x 1,0 l
5,0 l concentrate can (Art. No 41048). Carton: 1 x 5,0 l